TRI is also pleased to report the following:
HEMLO –
Barrick Gold continues to explore and develop their Hemlo properties and TRI management believes that this endeavor by Barrick Gold is bringing, and will continue to bring, renewed interest in this famous gold camp which has produced over 21 million ounces. The Hemlo Gold Camp is located approximately 46 kilometres east of Marathon, Ontario.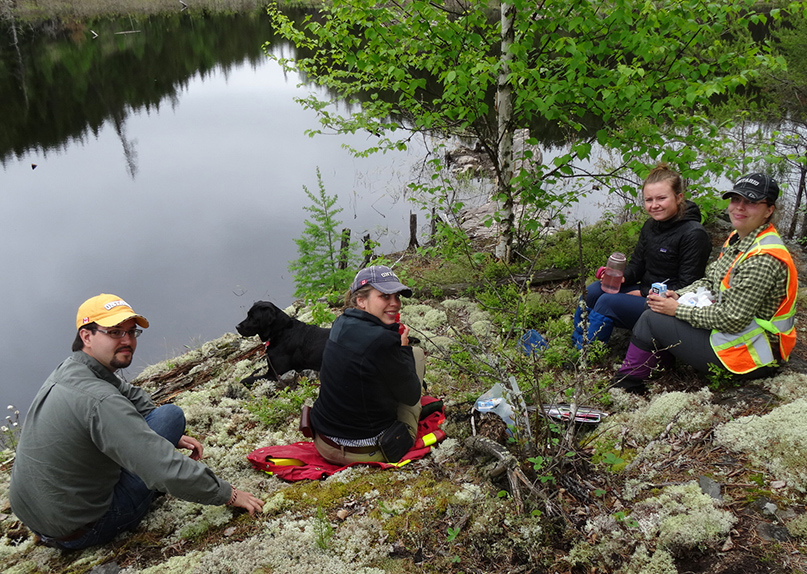 TRI has recently signed an option agreement to acquire a 100% interest in approximately 3,200+ acres, namely "Pinegrove" and "Black River North". This is in addition to the 100% optioned interest in the 18,000+ acres "Hemlo South", "Hemlo West", and "Hemlo North" claims. Total TRI claims in the Hemlo Gold Camp, located to the South, West and North of the Barrick Gold Williams Mine, now consists of 22,000+ acres making TRI one of the largest claim holders in the Hemlo Camp. The 3,300 acre "Hemlo South" claims are approximately 1 kilometre from the Williams open pit and shaft.
TRI has recently completed a 250 kilometre T-DEM survey (by Prospectair) on the newly acquired 3,200 acre "Pinegrove" property.
TRI has recently completed a 794 kilometre airborne T-DEM survey (by Prospectair) of the "Hemlo West", "Black River" and "Hemlo North" properties. This survey will help determine drill targets on these claims. Prospectair conducted a similar survey on the "Hemlo South" property shortly after TRI acquired the 3,300 acre claims in 2014.
Recently (August 18, 2016), Canadian Orebodies announced a financing of approximate net proceeds to the Company (Orebodies) of $5,607,691 and stated "the proceeds of the Financing will be used for the exploration and advancement of the Company's Hemlo property and for general working capital purposes."
The next day (August 19, 2016) a major gold mining company, Osisko Mines Inc. (TSX: OSK) announced that they had acquired a 19.9% interest in Canadian Orebodies Inc. This is of particular interest to TRI since some of the new Orebodies claims surround the TRI northern Hemlo claims.
There appears to be the start of a new staking rush to acquire claims in the Hemlo Camp. TRI started acquiring Hemlo claims in 2014, with the view that once the price of gold bottomed, renewed interest would take place in major gold camps, and this has proven true for TRI properties in Hemlo, the Shebandowan Gold Belt and Opinaca/Éléonore Gold Camp in James Bay, Quebec.
LAROSE –
Situated in the Shebandowan Gold Belt, approximately 110 kilometres west of Thunder Bay, TRI's Larose/Echo Ridge property consisting of approximately 16,000+ acres, is a promising exploration play with a history of high grade sampling and trenching (much of the past work performed by Freewest Resources Canada Ltd.). Better known as the Larose Shear Zone, or "LSZ", the property hosts multiple trenching locations stretching over 9 kilometres that have produced high grade samples ranging - from southwest to northeast – "J&R" (up to 79.2 g/t Au), "Larose" (up to 64.9 g/t Au), "P1" (up to 371.9 g/t Au), "Snoopy" (up to 10.2 g/t Au), "Porphyry" (up to 3.9 g/t Au), "Northwest View" (up to 62.9 g/t Au), "Snake" (up to 6.9 g/t Au), "Sweetspot" (up to 13.4 g/t Au), "Button" (up to 8.0 g/t Au), "Pecker" (up to 6.8 g/t Au), and the "T trench" (up to 152.0 g/t Au).
Previous diamond drilling completed by Freewest at a number of locales along the LSZ to test the extent of high-grade surface mineralization at shallow depth provided good results including: 2.27 g/t Au over 5.00 metres (L03-04), 3.45 g/t Au over 2.74 metres (L03-05), 8.74 g/t Au over 2.00 metres (L03-06), 7.31 g/t Au over 1.80 metres (L04-09) and 1.95 g/t Au over 5.00 metres (L04-24).
TRI has recently staked an additional 4,300 acres extending Larose to the north east and Echo Ridge to the south, bringing total acreage from the 12,000+ acres to the present 16,000+ acres.
Much like the Hemlo Camp mentioned above, there have been increased staking and/or a takeover rush by public junior resource companies in the immediate area of the Larose property. Kesselrun Resources Inc. (KES.V) (August 10, 2016) acquired the Pele Mountain (Ardeen Mine) property, adjacent to the Larose property. Previously, on May 27, 2016 Wesdome Gold Mines (TSX: WDO) announced the acquisition of Canoe Mining Ventures Corp.'s interest in the Coldstream Project and the Hamlin Property, both properties situated north-east and adjacent to the Wesdome property.
Wesdome Gold Mines, a producing gold mining company operating for over 28 years; owns the 3 million ounce Moss Lake gold deposit, situated approximately 7 kilometres south of the Larose property.
TRI has recently completed an airborne T-DEM survey (by Prospectair) of approximately 760 kilometres on the Larose/Echo Ridge properties, resulting in new drill targets on these properties. In August TRI completed 5 drill holes situated near the Larose and P1 trenches. As announced in a previous report the first drill hole (LR16-01) intersected an "unexpected" high grade gold bearing zone, including 5.65 grams of gold per tonne (g/T Au) over 3.00 metres from 42.00 to 45.00 metres downhole, including 0.50 metres of 27.69 g/t Au. If adjacent samples with lower gold contents are included, a section from 38.50 to 46.00 metres, averaged 2.84 g/t Au over 7.50 metres.
LR16-02 cut the same high grade section as in hole LR16-01, with an assay of 5.37 g/t Au over 2.00 metres, including 19.37 g/t over 0.50 metres. A second zone was also present, with 4.33 g/t Au over 0.50 metres. LR16-03 cut 37.34 g/t Au over 0.50 metres from 14.75 to 15.25 metres. LR16-04 and LR16-05 did not hit a continuation of the high grade section which suggests it is not continuing to plunge to the south west. The main purpose of these drill holes was to determine the direction of the main shoots near the high grade zones.
TRI also recently completed approximately 15 kilometres of reworked roads throughout the LSZ in order to make the various high grade trenches more assessable for further ground work, prospecting, and determining drill targets for the Fall drill program. Recent surface grab samples from the "NW View Trench" returned values of; 26.06 g/t Au, 24.62 g/t Au, 33.88 g/t Au, 51.79 g/t (1.67 ounces) Au, 22.15 g/t Au, 46.41 g/t (1.49 ounces) Au, and 16.15 g/t Au.
TRI management wishes to thank the First Nations Elders who recently attended a smudging ceremony at the Larose property. TRI is a firm supporter of First Nation initiatives in the Shebandowan Gold camp. TRI also wishes to thank the geologists from the Ministry of Northern Development and Mines (MNDM) and the Geological Professor and students from Lakehead University, who visited the property and took samples at the "Sweetspot" and T trenches.
OPINACA –
Like the Hemlo and Shebandowan camps, the Opinaca area that hosts the Éléonore Mine owned and operated by Goldcorp Inc. continues to attract both major and junior mining companies including Osisko Mining. Many of the present companies in the area are producing excellent drill results or currently have drills turning, with recent activity by Sirios Resources (TSX-V: SOI), Eastmain Resources (TSX: ER), Azimut Exploration (TSX-V: AZM), and Goldcorp itself.
TRI has recently completed work requirements on its 50% interest in the 18,600 acre Opinaca, James Bay, Quebec property. Work consisted of sonar readings to determine water depth required for the winter drilling season, including surface grab samples taken along shore line areas of interest. The previous airborne T-DEM survey carried out on the property in 2012 shows multiple faults, fractures or shear zones cutting through the Opinaca intrusion. TRI is concentrating presently on the northern area of the claims where the previous survey provided interesting drill targets for a winter drill program.