Charles J. Elbourne, President and CEO of Tashota Resources Inc. (TRI) ("Tashota" or the "Company") is pleased to announce that ("TRI") has executed a binding letter of intent that will grant the Company, the right to earn a 50% interest in the 18,609-acre Opinaca gold property in northern Québec.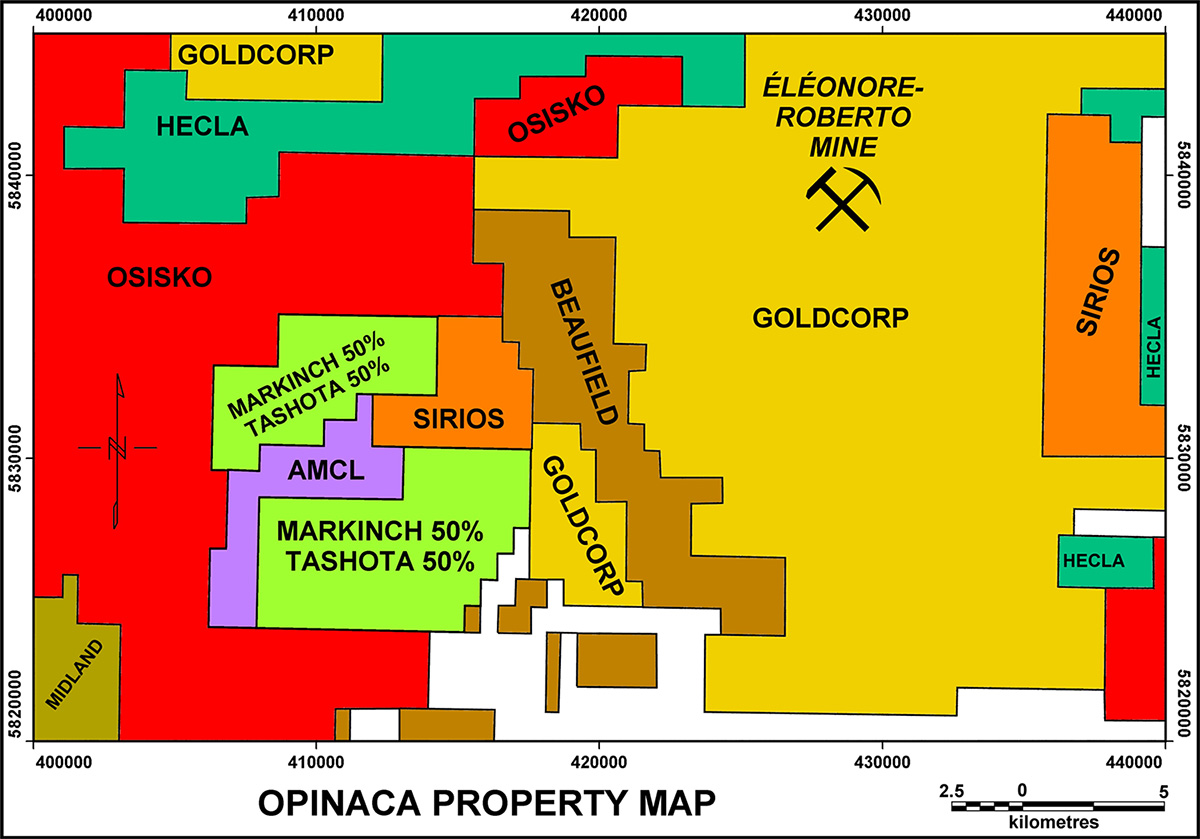 In order to earn the 50% interest in the Opinaca property, Tashota must pay MRI $40,000 and issue MRI 3,000,000 shares of Tashota within 15 days of signing, plus spend $75,000 on exploration of the property within 18 months. Tashota Resources Inc. is at present a private company engaged in mining exploration. It holds properties in the Beardmore-Geraldton gold belt (the "Tashota Project"), and adjacent to Barrick Gold's Hemlo gold mines ("Hemlo South"), both in northwestern Ontario.
The Opinaca property comprises 144 mining claims in two blocks, located 16 kilometres southwest of Goldcorp's Roberto gold mine on its Éléonore property. The Roberto mine is Canada's newest gold mine; it commenced production in October 2014, with a planned ultimate production rate of 600,000 ounces of gold per year. The Roberto deposit has a probable reserve of 4,030,000 ounces of gold grading 6.49 grams per tonne of gold (g/t Au), plus an inferred mineral resource of 4,100,000 ounces of gold at 9.63 g/t Au.
The Opinaca property is surrounded on three sides by Virginia Mines, the Québec-based company that discovered the Éléonore-Roberto gold deposit in 2004. On the fourth (east) side the Opinaca claims are adjoined by a claim block held by a 3-way joint venture between Goldcorp, Exploration Azimut and Eastmain Resources, as well as the Cheechoo property of Sirios Resources Inc., which has reported surface grab samples assaying up to 209 g/t Au.
Prior to the discovery of Éléonore-Roberto in 2004, the area was essentially unexplored, and there is no record of any exploration on the Opinaca property before it was staked by MRI in 2010. Preliminary prospecting on the Opinaca property has located boulders assaying up to 1.36% copper and 0.8 g/t Au. Boulder prospecting is a proven and effective method of exploration in glaciated terrains; in fact the Éléonore-Roberto gold deposit was discovered by tracing mineralized boulders back to their source. An airborne magnetic-electromagnetic survey of the property has delineated several clusters of anomalies that line up along an interpreted deformation zone that runs west and southwest from Éléonore-Roberto and crosses the whole width of the Opinaca property. Deformation zones represent generally favourable sites for gold mineralization in greenstone-type geological environments.
Charles J. Elbourne, President of Tashota Resources Inc. stated, "Management of Tashota is pleased to have entered into this farmout agreement with Trincan/Markinch for the "Opinaca" property in James Bay, Quebec, as this project will further our objective of acquiring properties in the immediate vicinity of producing gold mining operations of major companies. With the "Opinaca" situated merely 16 kilometres south west of the Goldcorp Éléonore (now in production) and the Hemlo South project in Marathon, Ontario; a mere kilometre from Barrick Gold's Hemlo Mine, Tashota is well positioned with its portfolio of properties to benefit from major exploration efforts on its mining claims."
Management is also pleased to announce that it has entered into negotiations with management of Advandtel Minerals (Canada) Ltd. (AMCL), a private Canadian mining company, to acquire a significant interest in the AMCL "Opinaca" property, between the two Markinch "Opinaca" claim blocks. AMCL holds approximately 4,500 acres of mining claims adjacent to the Markinch claims. The combined holding of MRI and AMCL cover over 23,000 acres of claims and the property is surrounded by Virginia Mines, the original discoverer of the Éléonore deposit.